Find Your Favorites
Featured VarietieS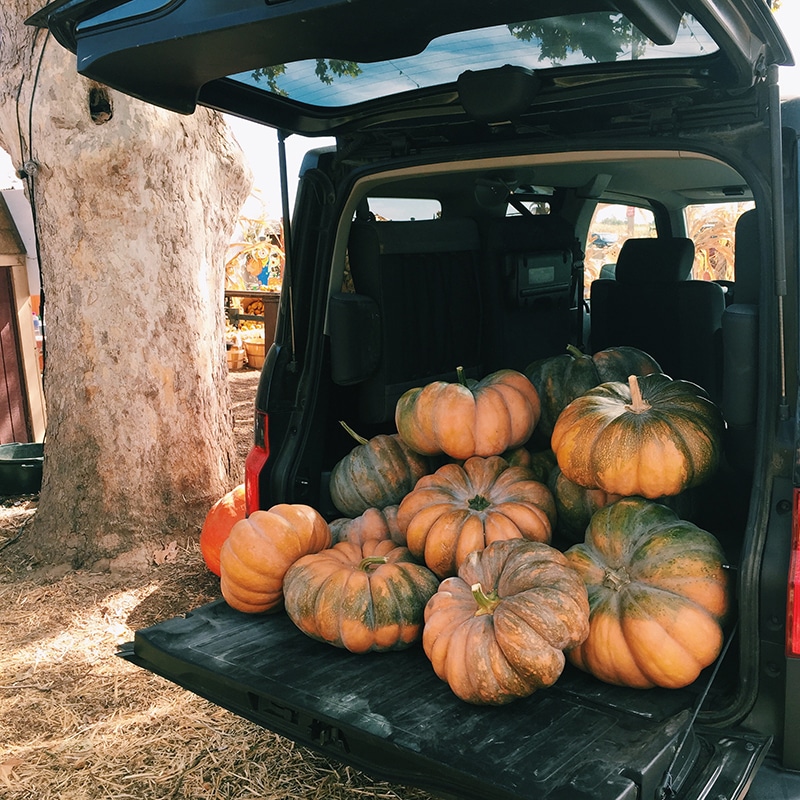 Fairytale
A very popular French heirloom that has been gracing doorsteps for centuries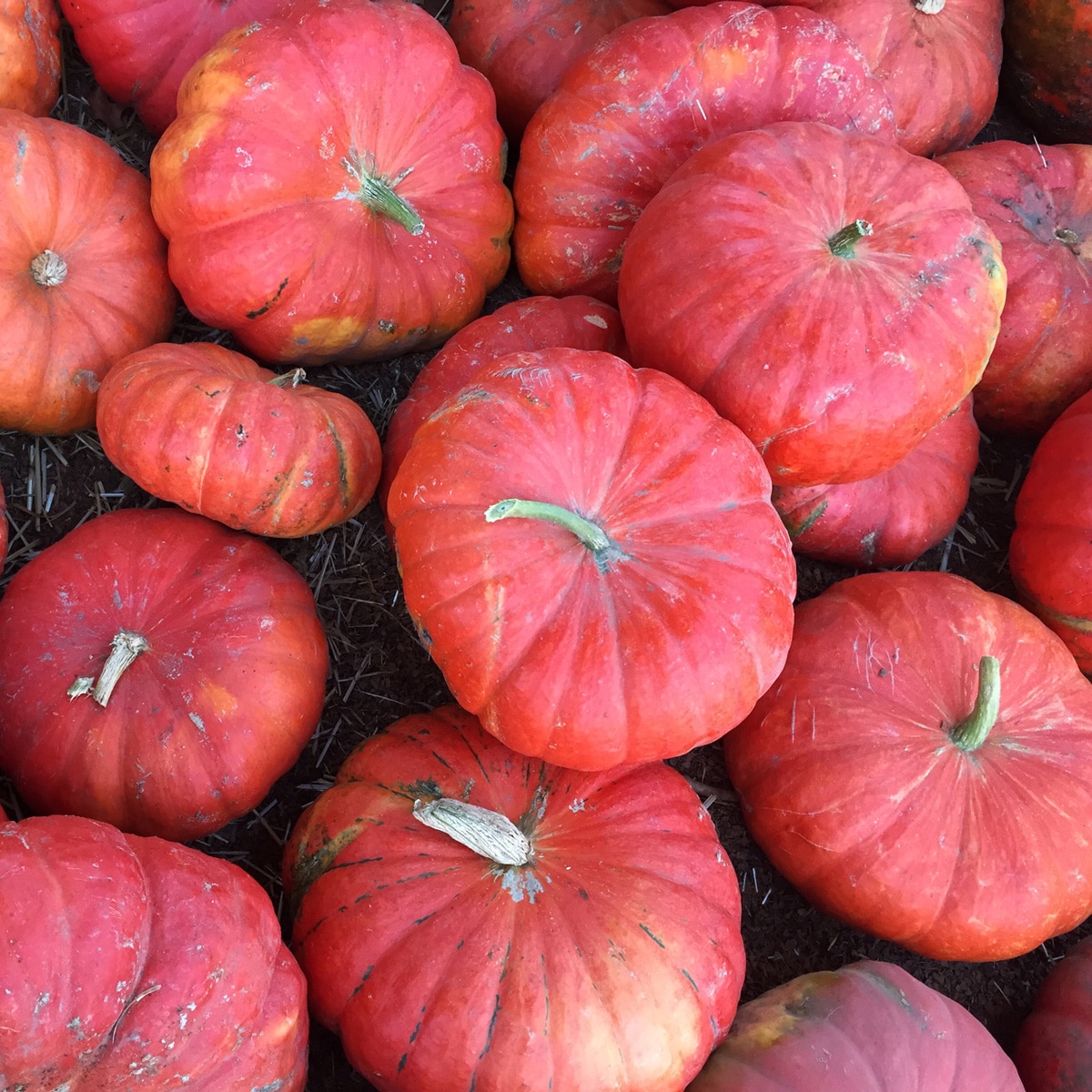 Cinderella
A showstopper amongst roadside stands, fall displays, and gourmet dishes alike.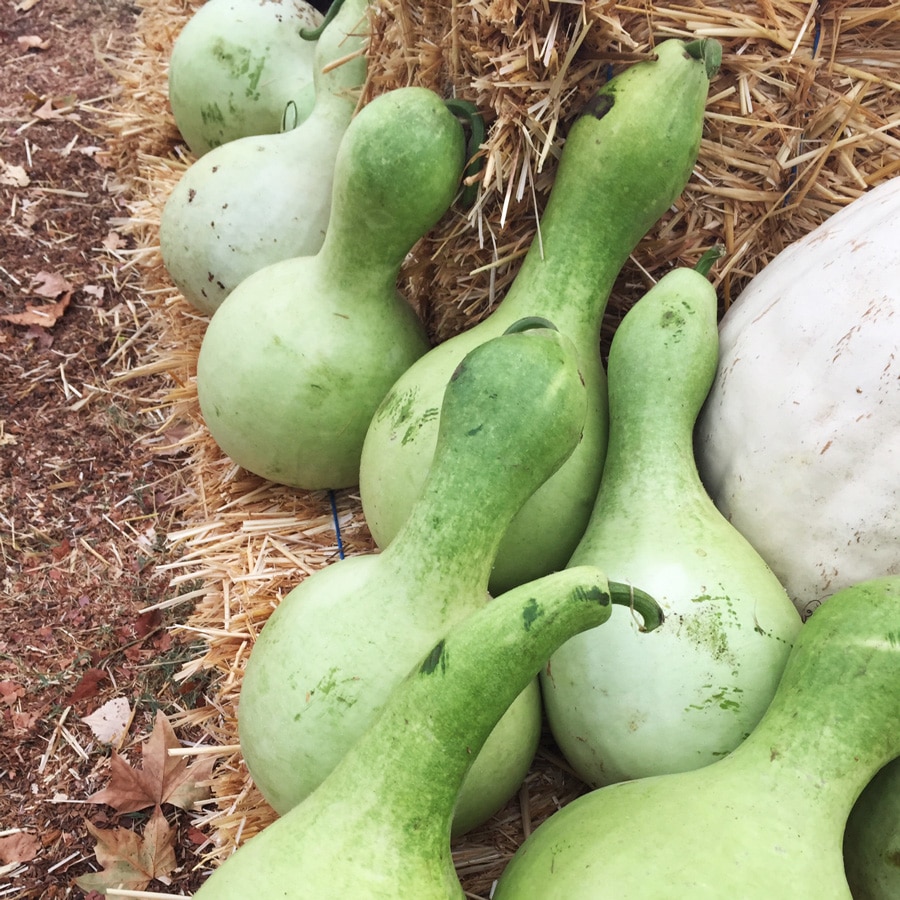 Birdhouse (Bottleneck) Gourd
A gourd well known for it's unique and entertaining use!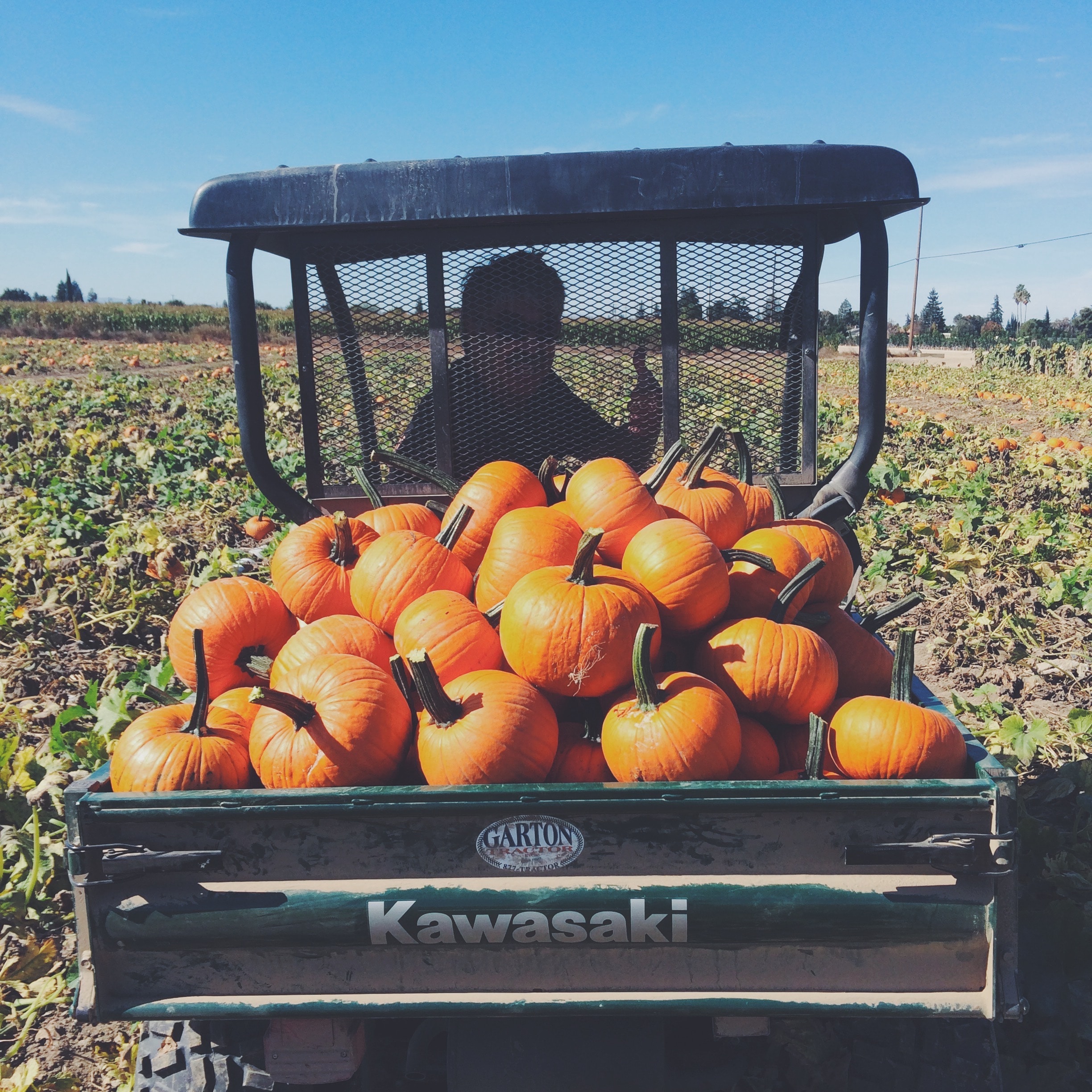 Field Trip
This pumpkin earned it's name because it is the perfect size for all of the kids who come to visit our pumpkin patch via a field trip with their school class! It is a small round classically colored orange pumpkin.  Relatively smooth with shallow ridges.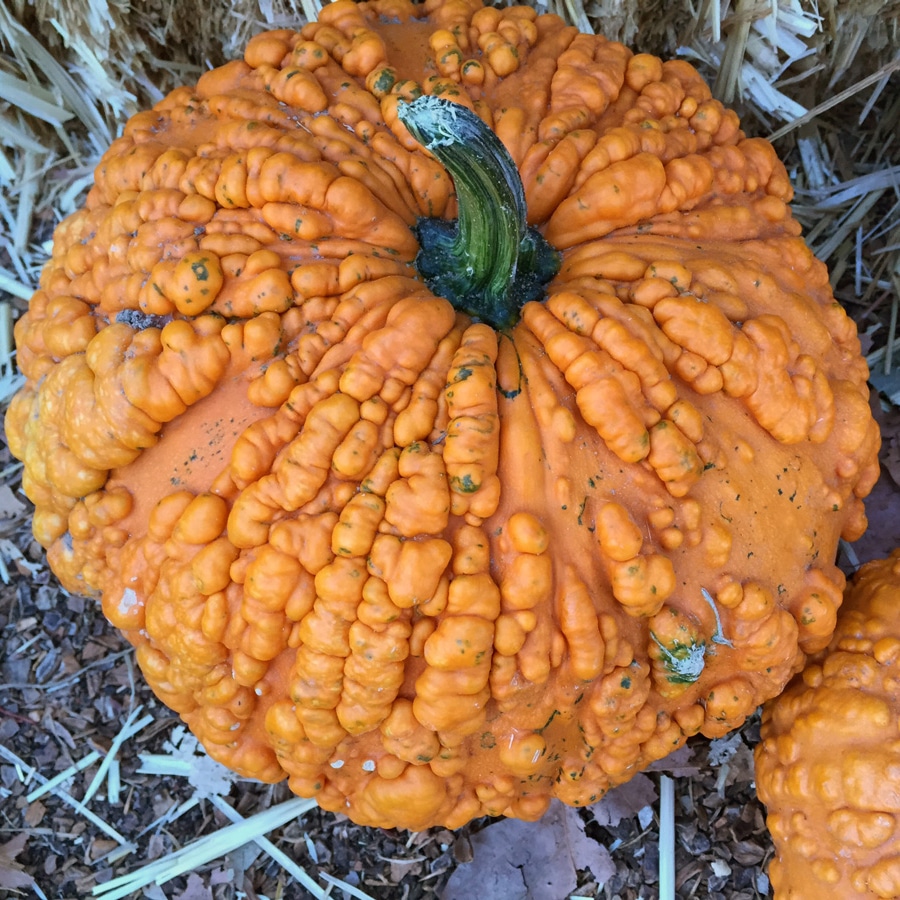 Mr. Fugly
 This unique looking pumpkin is for those of us intersted in something different or perhaps those who enjoy 'texture'. For those ambitious enough, it is great for carving the most eccentric looking Jack-O-Lantern.  Or you can use his bright orange flesh to cook up something delicious.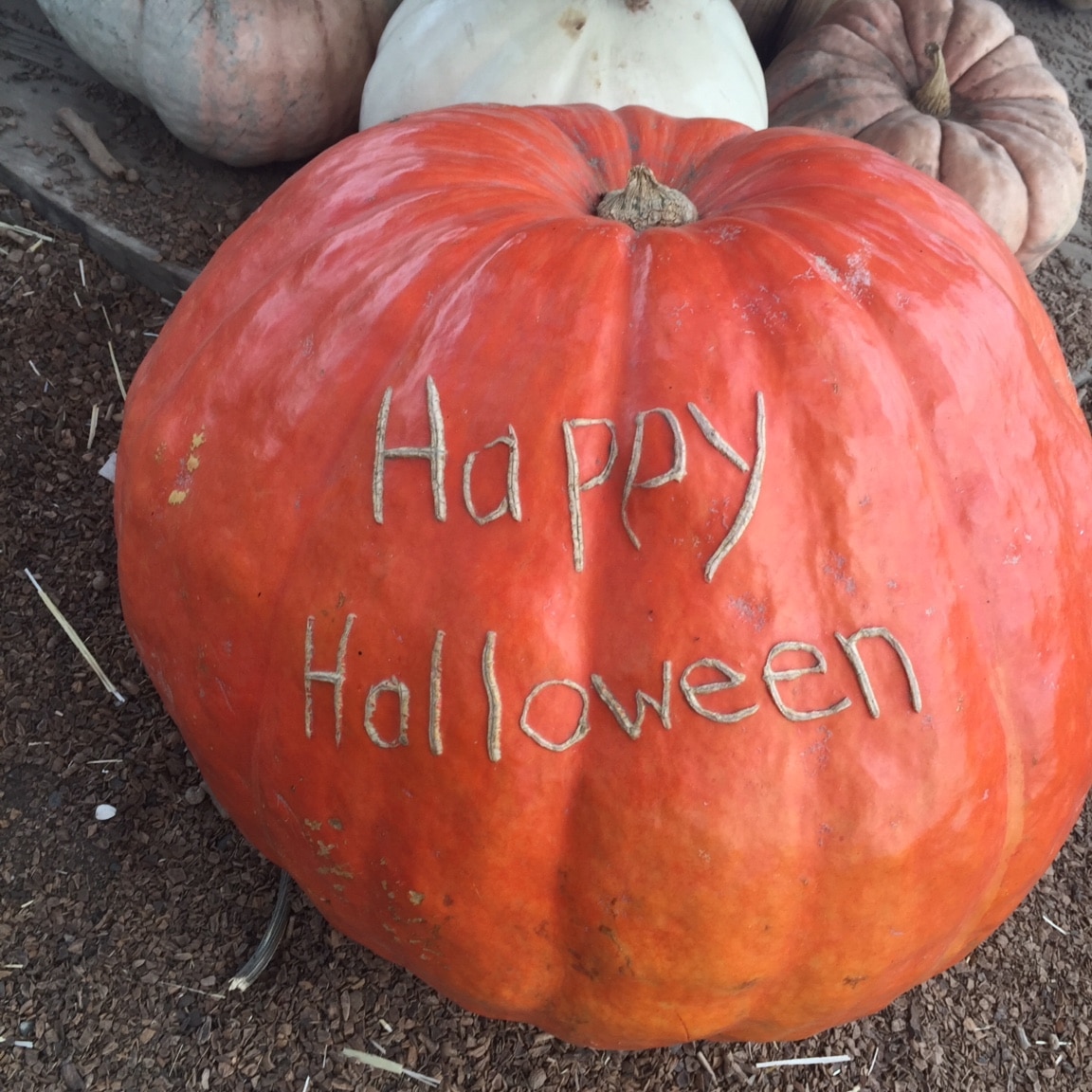 Prizewinner
This variety is easily our most popular amongst the giants.  It easily, and often, exceeds 50lbs and can weigh upwards of 300lbs! It's round shape and deep orange color makes it a classic looking giant pumpkin for those of us who believe bigger IS better.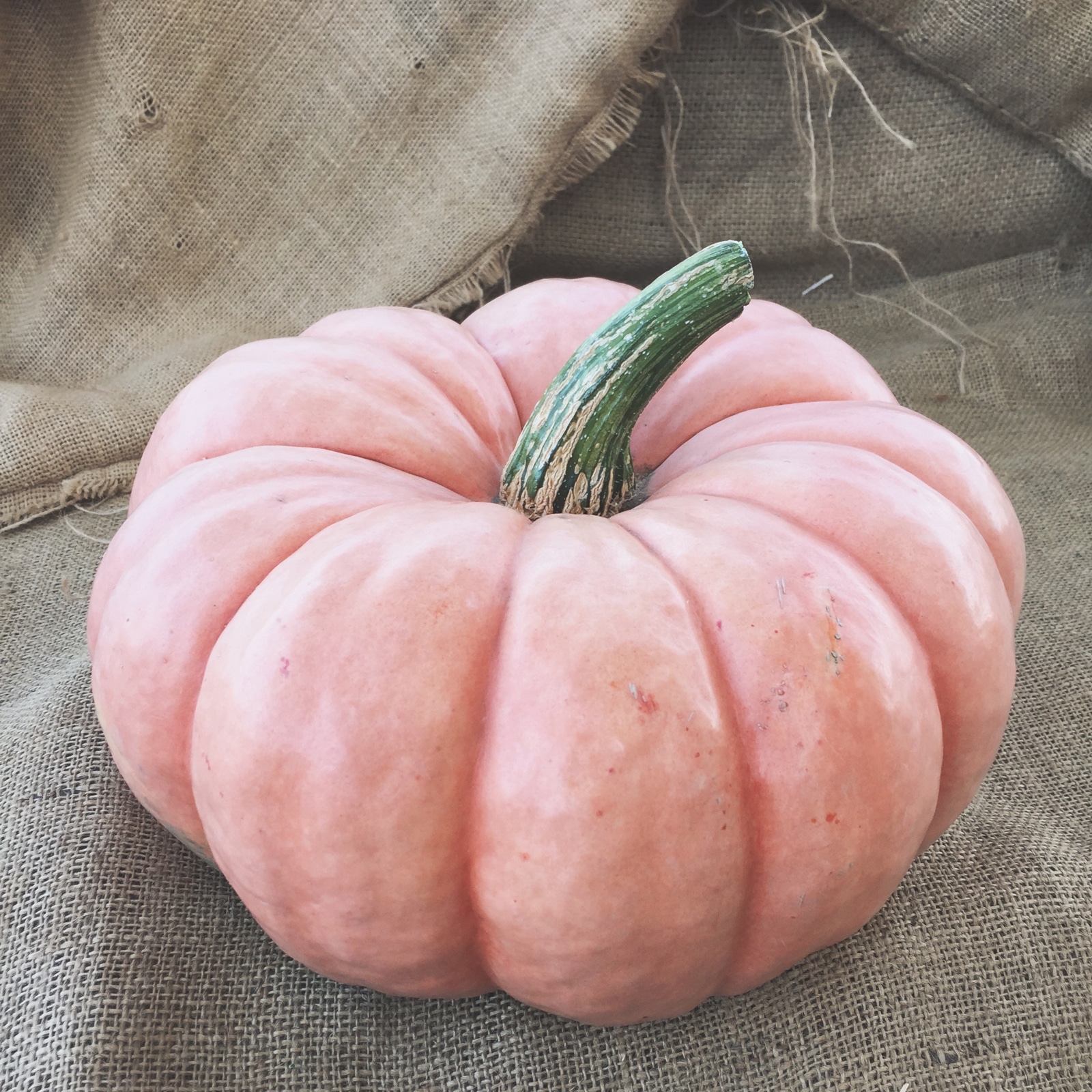 Pink Porcelain Doll
A thoughtfully engineered variety with an exotic hue of pink created to promote breast cancer awareness.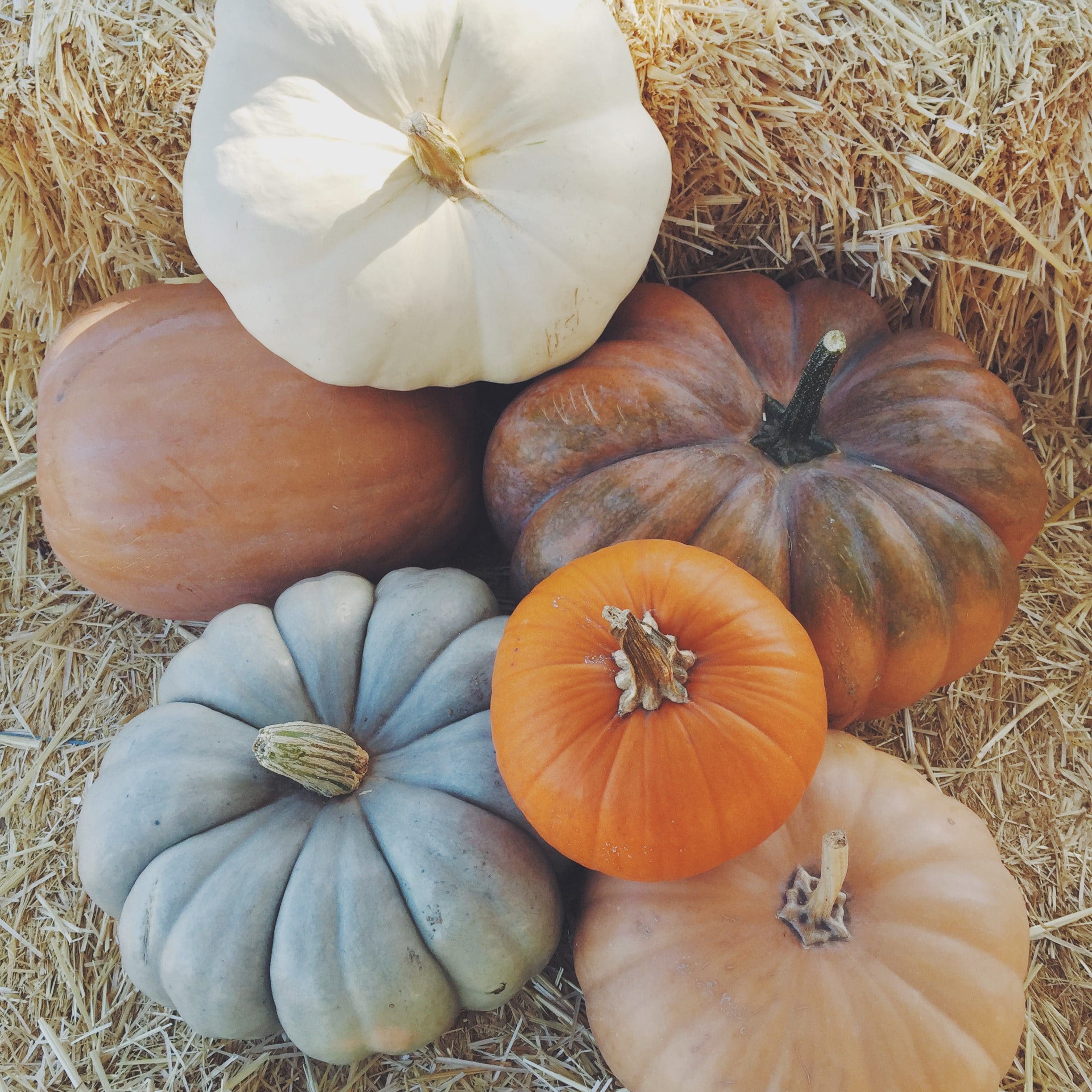 Excellent Varieties for Baking
Sugar Pie, Long Island Cheese, Butternut, Crystal Star, Jarrahdale, Kobocha – what are you making?  We have suggestions.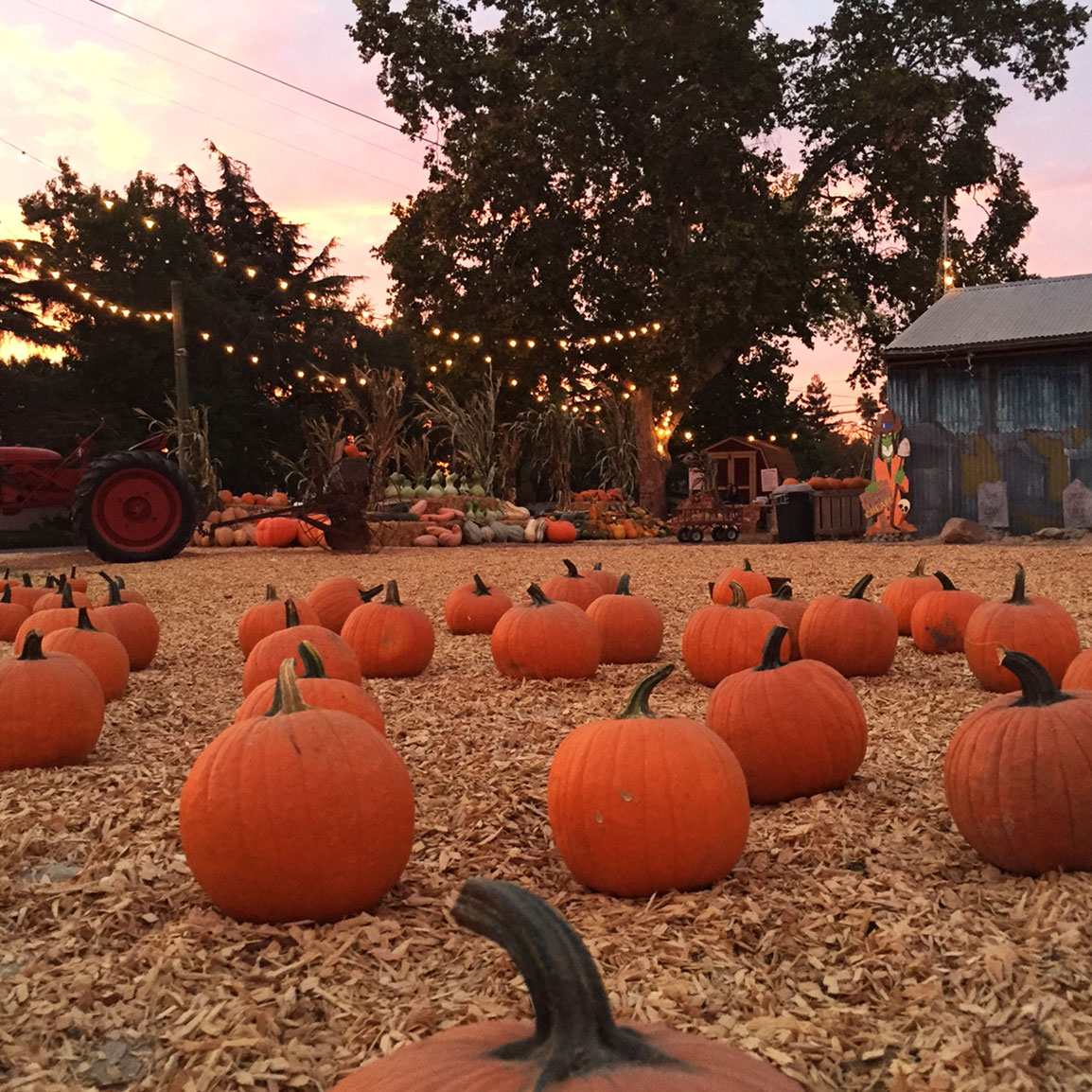 Classic Carvers
We cary several varieties of the classic orange shape you love.  Smooth, ribbed, large and small.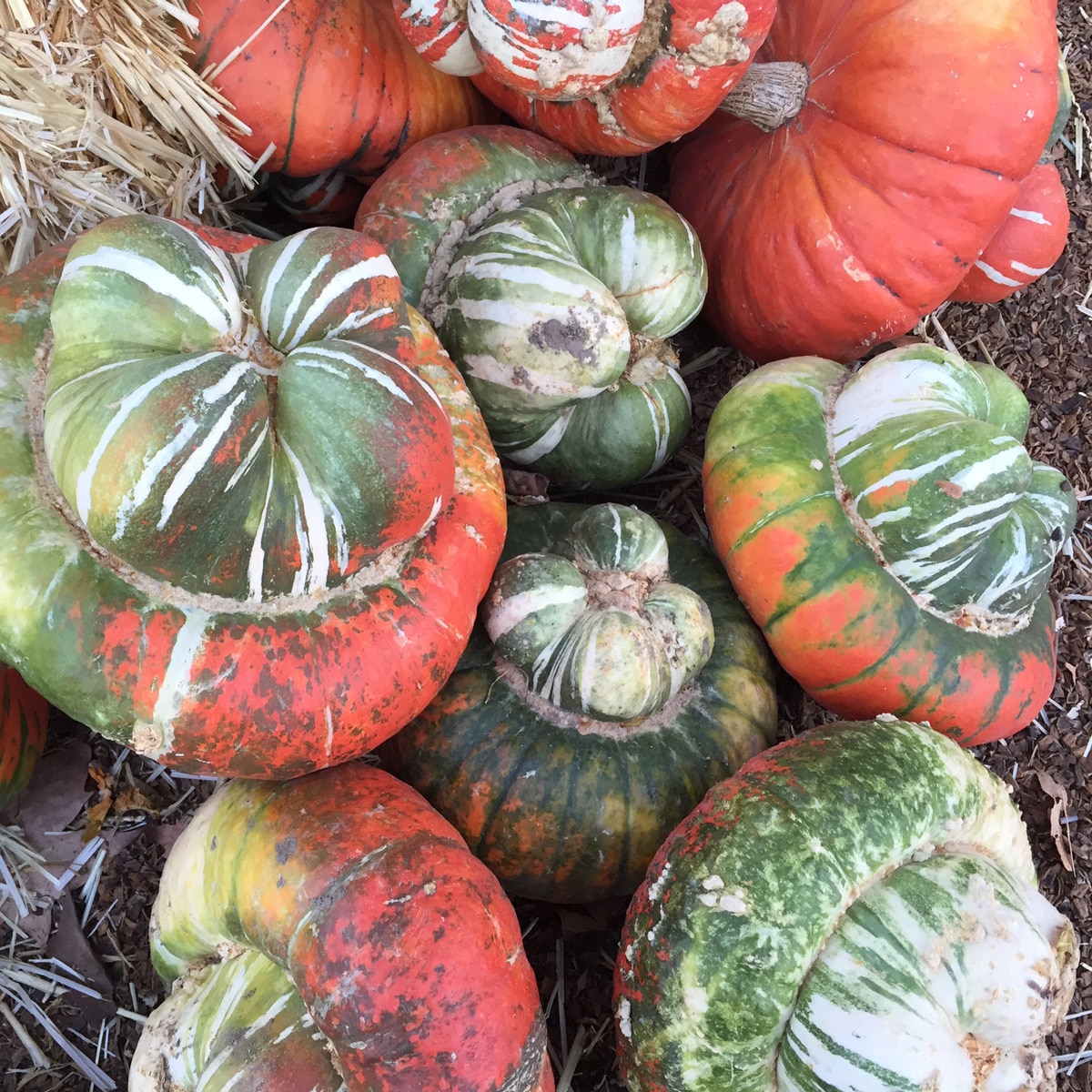 Turk's Turban
Originating from France, this unique looking gourd comes in an interesting 2 part shape and multi color stripes & speckles.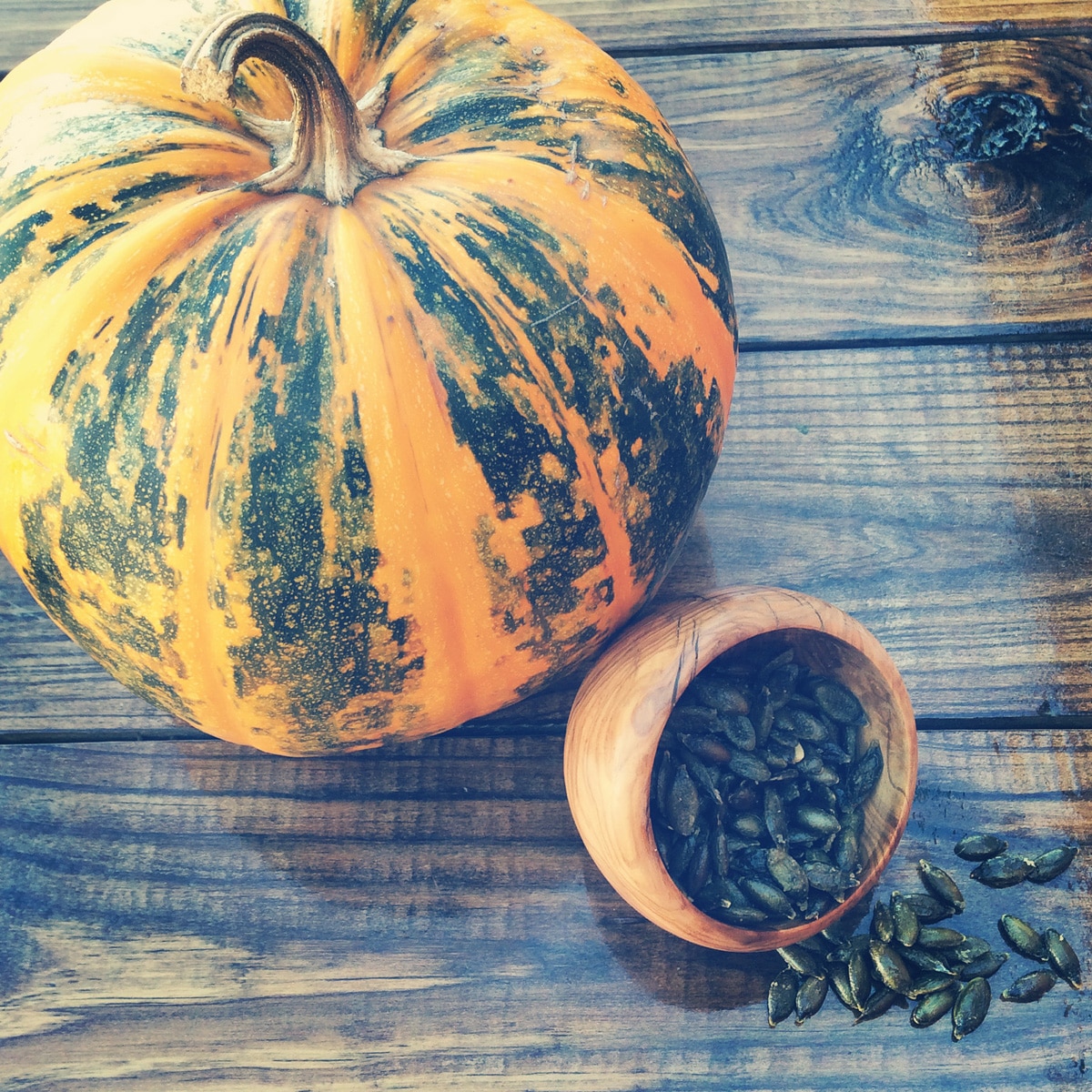 Kakai
This heirloom variety contains seeds of a deep shade of green with a delicious savory flavor.  The seeds are hulless – meaning there is no tough outer shell, similar to that of a sunflower seed.   Roast them warm and slow seasoned with butter and salt. Or any other spice or flavor you can think of!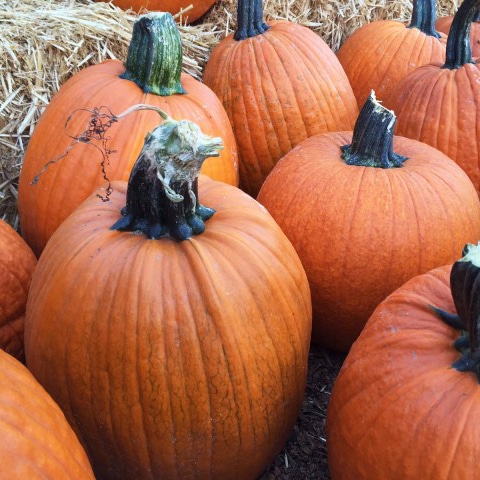 Captain Jack
This extra large pumpkin sits up right, has a great vibrant orange color, relatively smooth skin, and a very thick handle. One of our bestsellers!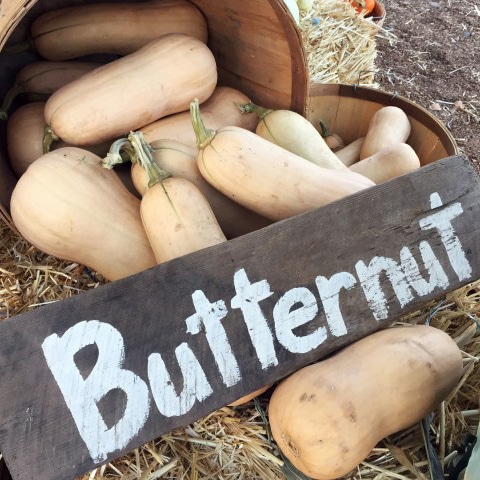 Butternut Squash
Peel, cube, boil or bake the sweet flesh; enjoyable in both sweet and savory dishes! It has a smooth creamy exterior skin with bright orange soft flesh.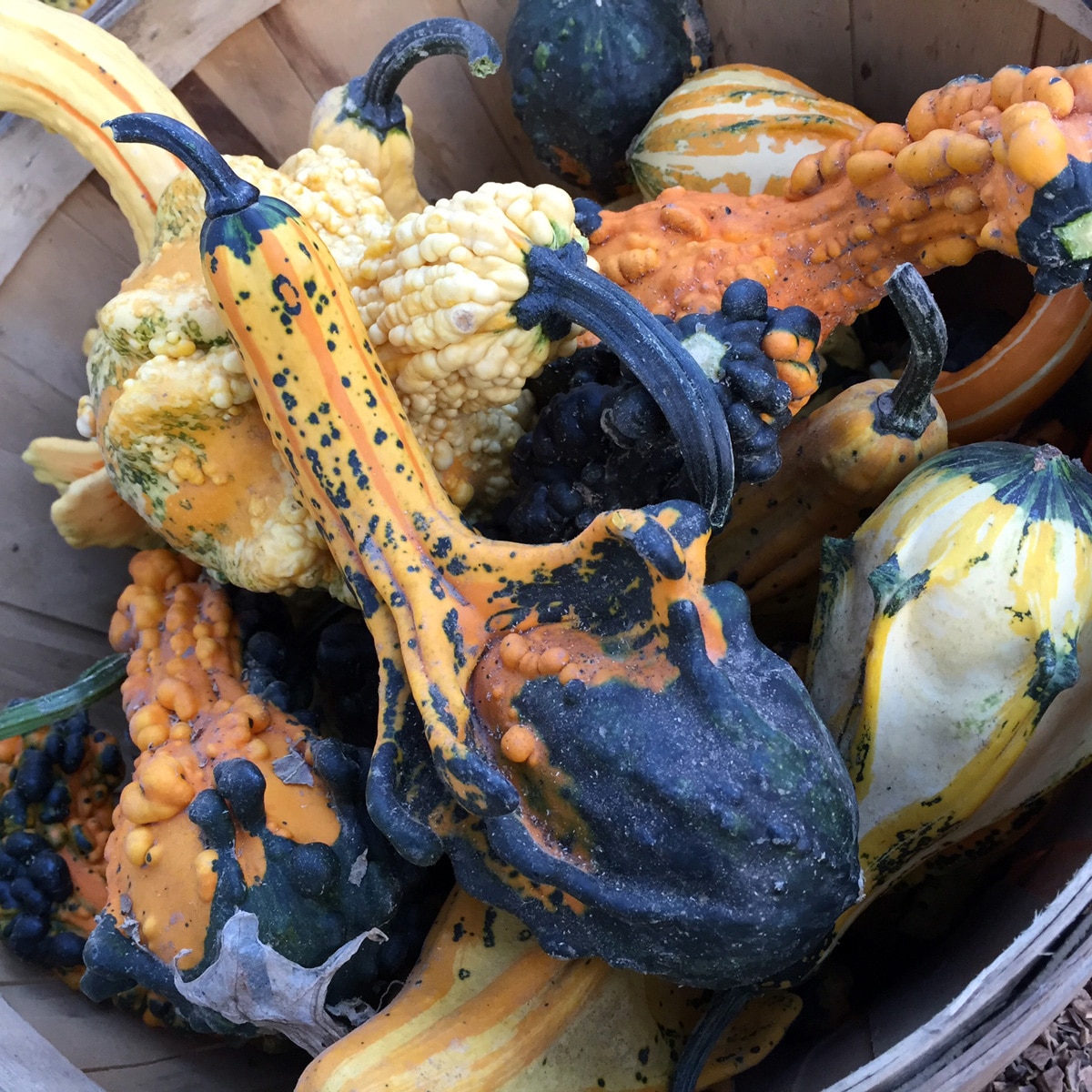 Medium Winged Gourds
Assorted colors shapes wings patterns and warty-ness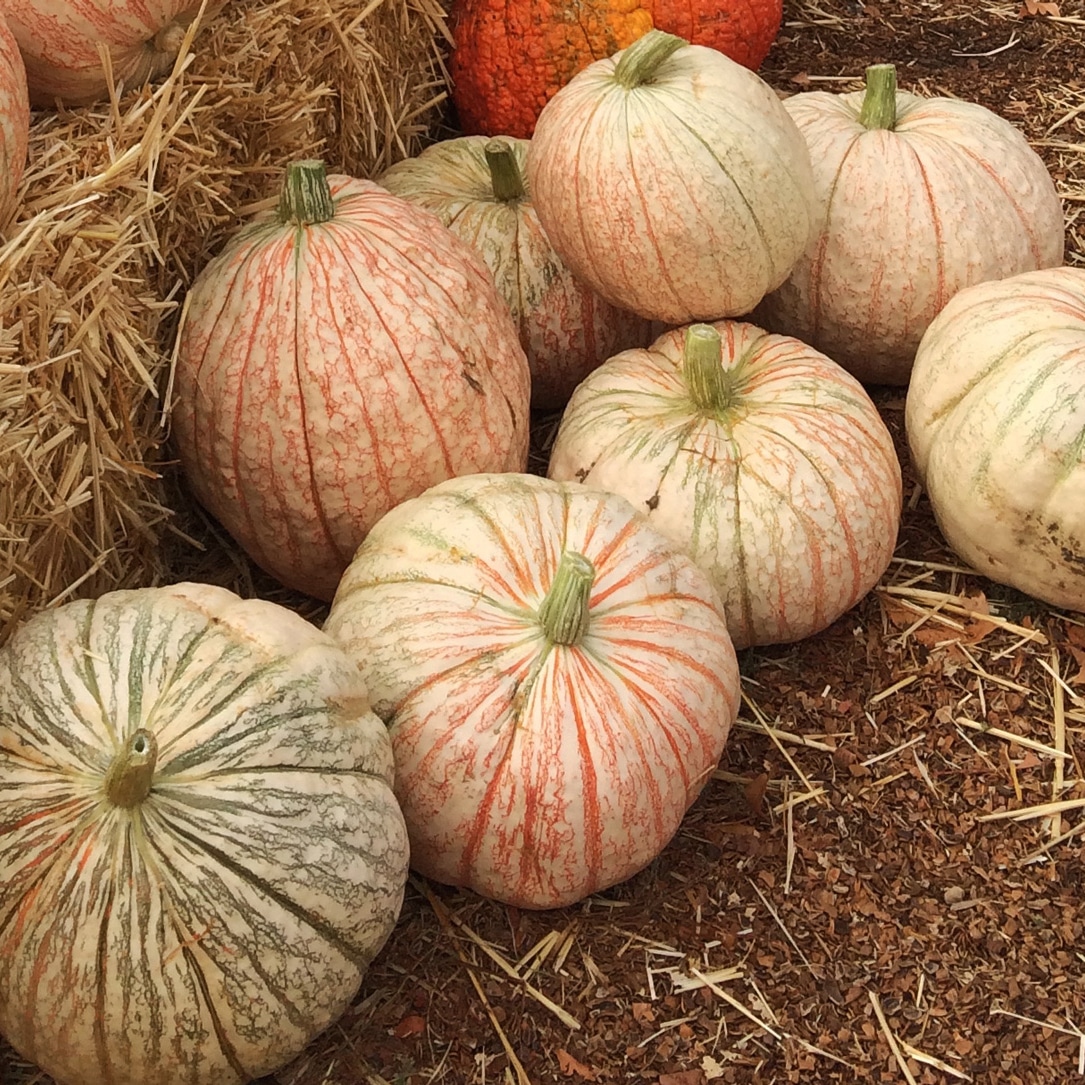 One too Many...
This white pumpkin with red-orange webbing earned it's name because of it's resemblance to a bloodshot eye.  Get it??? One too many…
ORDER FORM
Pumpkin Scaring
<div id="wufoo-z1zoh6t0gcenng"><!-- [et_pb_line_break_holder] -->Fill out my <a href="https://ramfarms.wufoo.com/forms/z1zoh6t0gcenng">online form</a>.<!-- [et_pb_line_break_holder] --></div><!-- [et_pb_line_break_holder] --><div id="wuf-adv" style="font-family:inherit;font-size: small;color:#a7a7a7;text-align:center;display:block;">Online contact and registration forms from <a href="http://www.wufoo.com">Wufoo</a>.</div><!-- [et_pb_line_break_holder] --><script type="text/javascript">var z1zoh6t0gcenng;(function(d, t) {<!-- [et_pb_line_break_holder] -->var s = d.createElement(t), options = {<!-- [et_pb_line_break_holder] -->'userName':'ramfarms',<!-- [et_pb_line_break_holder] -->'formHash':'z1zoh6t0gcenng',<!-- [et_pb_line_break_holder] -->'autoResize':true,<!-- [et_pb_line_break_holder] -->'height':'auto',<!-- [et_pb_line_break_holder] -->'async':true,<!-- [et_pb_line_break_holder] -->'host':'wufoo.com',<!-- [et_pb_line_break_holder] -->'header':'hide',<!-- [et_pb_line_break_holder] -->'ssl':true};<!-- [et_pb_line_break_holder] -->s.src = ('https:' == d.location.protocol ? 'https://' : 'http://') + 'www.wufoo.com/scripts/embed/form.js';<!-- [et_pb_line_break_holder] -->s.onload = s.onreadystatechange = function() {<!-- [et_pb_line_break_holder] -->var rs = this.readyState; if (rs) if (rs != 'complete') if (rs != 'loaded') return;<!-- [et_pb_line_break_holder] -->try { z1zoh6t0gcenng = new WufooForm();z1zoh6t0gcenng.initialize(options);z1zoh6t0gcenng.display(); } catch (e) {}};<!-- [et_pb_line_break_holder] -->var scr = d.getElementsByTagName(t)[0], par = scr.parentNode; par.insertBefore(s, scr);<!-- [et_pb_line_break_holder] -->})(document, 'script');</script>
ORDER FORM
Pumpkin Scaring
<div id="wufoo-z1zoh6t0gcenng"><!-- [et_pb_line_break_holder] -->Fill out my <a href="https://ramfarms.wufoo.com/forms/z1zoh6t0gcenng">online form</a>.<!-- [et_pb_line_break_holder] --></div><!-- [et_pb_line_break_holder] --><div id="wuf-adv" style="font-family:inherit;font-size: small;color:#a7a7a7;text-align:center;display:block;">Online contact and registration forms from <a href="http://www.wufoo.com">Wufoo</a>.</div><!-- [et_pb_line_break_holder] --><script type="text/javascript">var z1zoh6t0gcenng;(function(d, t) {<!-- [et_pb_line_break_holder] -->var s = d.createElement(t), options = {<!-- [et_pb_line_break_holder] -->'userName':'ramfarms',<!-- [et_pb_line_break_holder] -->'formHash':'z1zoh6t0gcenng',<!-- [et_pb_line_break_holder] -->'autoResize':true,<!-- [et_pb_line_break_holder] -->'height':'auto',<!-- [et_pb_line_break_holder] -->'async':true,<!-- [et_pb_line_break_holder] -->'host':'wufoo.com',<!-- [et_pb_line_break_holder] -->'header':'hide',<!-- [et_pb_line_break_holder] -->'ssl':true};<!-- [et_pb_line_break_holder] -->s.src = ('https:' == d.location.protocol ? 'https://' : 'http://') + 'www.wufoo.com/scripts/embed/form.js';<!-- [et_pb_line_break_holder] -->s.onload = s.onreadystatechange = function() {<!-- [et_pb_line_break_holder] -->var rs = this.readyState; if (rs) if (rs != 'complete') if (rs != 'loaded') return;<!-- [et_pb_line_break_holder] -->try { z1zoh6t0gcenng = new WufooForm();z1zoh6t0gcenng.initialize(options);z1zoh6t0gcenng.display(); } catch (e) {}};<!-- [et_pb_line_break_holder] -->var scr = d.getElementsByTagName(t)[0], par = scr.parentNode; par.insertBefore(s, scr);<!-- [et_pb_line_break_holder] -->})(document, 'script');</script>
PUT YOUR NAME ON IT
Pumpkin Scaring
'Pumpkin Scratching' or 'Scaring' is a process by which we mark and slightly cut into the pumpkins flesh while it is still on the vine.  While it continues to grow, the pumpkin heals itself over the mark leaving a scar.
Certain varieties of pumpkins scar better than others. Below are our varieties that do the best with the process.
Fill out the form below to order yours today!
All custom orders must be placed by end of September for seasonal availability. Payment not due until guaranteed successful scaring & pick up.
Pumpkin Patch & Corn Maze
U-Pick Patch
<div id="wufoo-m1rerrh912c9za2"><!-- [et_pb_line_break_holder] -->Fill out my <a href="https://ramfarms.wufoo.com/forms/m1rerrh912c9za2">online form</a>.<!-- [et_pb_line_break_holder] --></div><!-- [et_pb_line_break_holder] --><div id="wuf-adv" style="font-family:inherit;font-size: small;color:#a7a7a7;text-align:center;display:block;">Online contact and registration forms from <a href="http://www.wufoo.com">Wufoo</a>.</div><!-- [et_pb_line_break_holder] --><script type="text/javascript">var m1rerrh912c9za2;(function(d, t) {<!-- [et_pb_line_break_holder] -->var s = d.createElement(t), options = {<!-- [et_pb_line_break_holder] -->'userName':'ramfarms',<!-- [et_pb_line_break_holder] -->'formHash':'m1rerrh912c9za2',<!-- [et_pb_line_break_holder] -->'autoResize':true,<!-- [et_pb_line_break_holder] -->'height':'auto',<!-- [et_pb_line_break_holder] -->'async':true,<!-- [et_pb_line_break_holder] -->'host':'wufoo.com',<!-- [et_pb_line_break_holder] -->'header':'hide',<!-- [et_pb_line_break_holder] -->'ssl':true};<!-- [et_pb_line_break_holder] -->s.src = ('https:' == d.location.protocol ? 'https://' : 'http://') + 'www.wufoo.com/scripts/embed/form.js';<!-- [et_pb_line_break_holder] -->s.onload = s.onreadystatechange = function() {<!-- [et_pb_line_break_holder] -->var rs = this.readyState; if (rs) if (rs != 'complete') if (rs != 'loaded') return;<!-- [et_pb_line_break_holder] -->try { m1rerrh912c9za2 = new WufooForm();m1rerrh912c9za2.initialize(options);m1rerrh912c9za2.display(); } catch (e) {}};<!-- [et_pb_line_break_holder] -->var scr = d.getElementsByTagName(t)[0], par = scr.parentNode; par.insertBefore(s, scr);<!-- [et_pb_line_break_holder] -->})(document, 'script');</script><!-- [et_pb_line_break_holder] -->